Just in Time for Christmas!


Maine Coon Kittens

Congratulations Sayomi and Crush!!! 
5 Maine Coon Kittens  4 Males 1 Females


Born Oct 1st 2018
Release Date 9th-16th, 2018


All kittens in this litter have been reserved



Reserve Your Maine Coon Kitten Today

Females
She is super clever and very playful. She likes to show her brothers how tough she is. Her pictures can't nearly show her spunk and cuteness. She has beautiful ear tips and she will have a very nice mane as well. I love her white socks. She is sweet and she is extremely playful.


 Female 1:

Black Smoke Classic Torbie with White

Going to her forever home with Sunday


Reserved 
Males
Male 1:  Silver Classic  Tabby with White
Reserved
Going to his forever home with Kim

This little guy is super friendly and likes to talk. He follows you around and is a big eater. Not much scares him he is too busy checking everything out. His fur is gorgeous and long and he is going to be a big boy.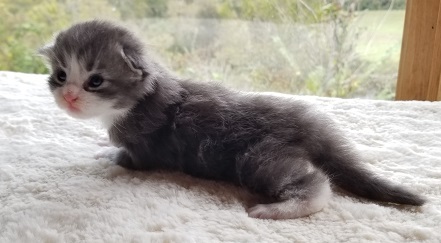 ---
Male 2: 

 

Blue Solid

 


Reserved


Going to his forever home with Karen and Braxton! 



Reserve a kitten now



This Male Kitten has that bulldog look and attitude. He came into this world believing he owns it and never backs down from anything.

He is sweet and loves to be in  the middle of  whatever is going on. He has that chinchilla fur that is so nice.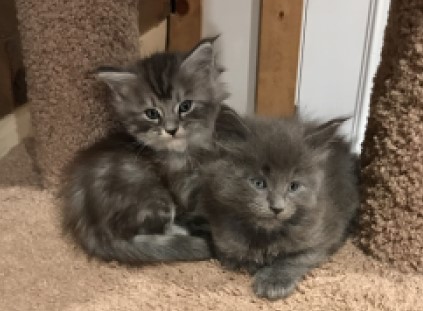 ---
Male 3:      Silver Classic Tabby

Reserved 
Going to his forever home with Kiersten

This kitten is the sweet sit in your lap kind of male kitten.

He is not the "Into everything, challenge everyone," kind of kitten. He hangs back and watches and joins when it suits him. Otherwise he just likes to hang out with the "adults."

He has gorgeous swirl and stripe markings. It looks like his mane will be gorgeous and white.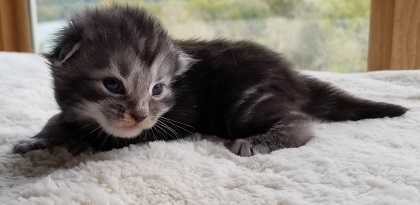 ---
Male 4:   Name: Echo
Black Smoke with White
 Reserved
 Going to his forever home with
Eden and Oliver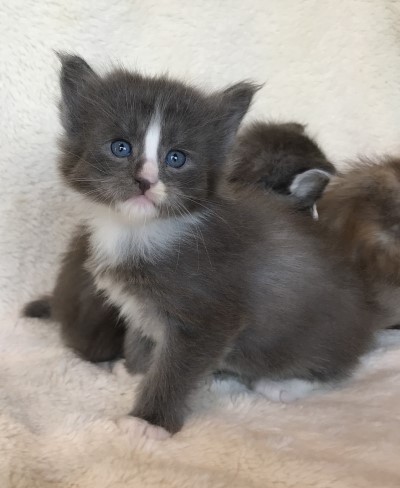 This male kitten has a personality that matches his cuteness! He is so fun to watch.

He is unaware of his bounce ability and bounces himself into a flip when he gets excited. He is so funny.

He loves to roll and play and tackle and roll and play some more.

He is going to be a big boy and his mane should be amazing.