Our Maine Coon Sires

Our Maine Coon Sires are specially chosen from top award winning bloodlines. We breed for size as well as a loving and gentle personality.

---
Hunter 
Maine Coon Sire: Hunter is a imposing gorgeous black smoke. Although he looks very intense he is the sweetest male ever. He is all muscle and is growing at an alarming pace. 

We look forward to some exciting litters coming from him!
Our Blazin' Crush - Retired


*Registered as: Sherlynx Disney




Blazin Crush is our Cream Silver Classic Tabby. He comes to us from Hungary. He is a great lover of His human Dad. As soon as he gets home Blaze and Joy try to find a spot on his lap. 

He has produced many gorgeous kittens. We are getting pictures back of some Really Huge Offspring. 
Sir Roscoe - Retired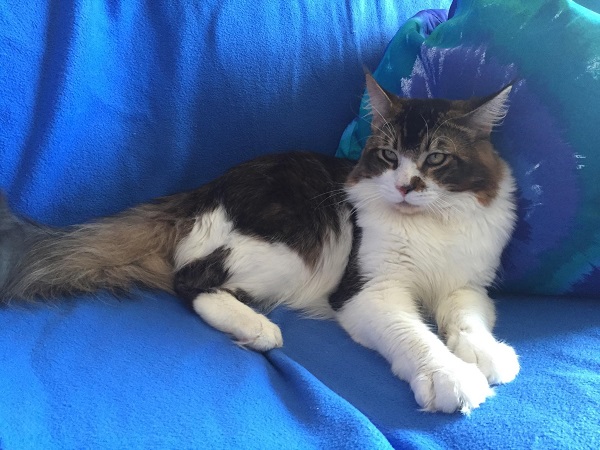 Sir Roscoe is a gorgeous long haired Brown Ticked Maine Coon Sire for our Queens. Don't worry he won't eat you he just looks like he could. HE is the gentlest sweetest cat ever. He absolutely loves the water, laying on his back while you scrub him up with soap and rinse. He is the biggest most loyal male cat you could ask for. If we leave the room he follows.  He wants to help you do whatever it is you are working on. He is playful - loves to fetch and play. He has the chinchilla fur and it is incredible. We love having him as a sire option.  

Sampson - Retired

| | |
| --- | --- |
| Sampson is a big boy from our own Princess Emelia. He has now been retired.  | |
Sterling - Retired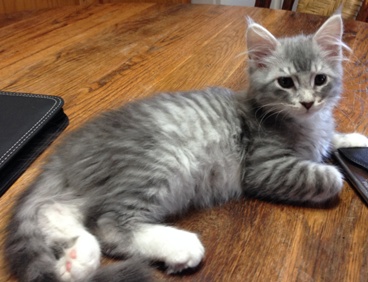 Sterling is form the Champion Ship Line of Jasper  and is the sweetest best tempered boy we have ever had as a sire. He loves on everyone kittens and people alike. He is more relaxed and easy going that you could ever imagine. He is a gorgeous Silver Mackerel. We are excited and anticipate some gorgeous kittens in our future.

Sir Webster - Retired

| | |
| --- | --- |
| Sir Webster - 1 yr old | Webster is a truly gentle GIANT. He just keeps getting bigger. He is so careful not to claw us although sometimes he seems to have no understanding of how heavy he is. He is extremely social and loves to be in the middle of anything - no everything! |
General Ike - Retired

| | |
| --- | --- |
| | General Ike is a fabulous Buddy. He is more dog like than a dog. He embodies the saying that a Maine Coon cat is a dog lovers cat! He is going to be another huge boy. We will get some more pics of him up soon. |