Maine Coon Kittens
All kittens in this litter are reserved

Male : In his forever home with the Nelson Family


This fellow earned the nick name "Lone Ranger" He does not seem to be afraid of anything. He is an adventurer and loves to be with people. Walk in the room and say hello because here he comes.This little guy is going to be a BIG guy!

Female :In her forever home with David and Devon


"Tiger" Yes she has so many stripes we can't call her anything else. We have fallen in love with this affectionate Gal. She is so playful and so cute. She has the most gorgeous stripes and the ticked coloring underneath a great combo! We call her tiger, but she is gentle and lots of fun. 
Taking home a Maine Coon Kitten is a big commitment. We only adopt to family's that agree to not having the cat de-clawed and raising them indoors.


Male: In his forever home with Marie and clan


This little guy is always with his buddy the "Lone Ranger"


This little Guy is very alert to everything going on around him. He is going to be a great buddy for someone.
Female: In her forever home with Lisa


We affectionately call this little gal "Bear". She has the ticked fur that is so gorgeous. She is feisty and can hold her own but a lover too. She is so sweet. She looks like she is going to be a big girl.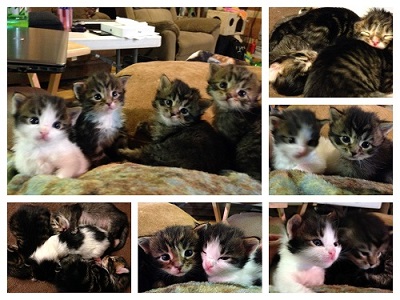 The perfect gift for your family.... Kittens available now!!!