Maine Coon Kitten Queen
Evanstar - "Star"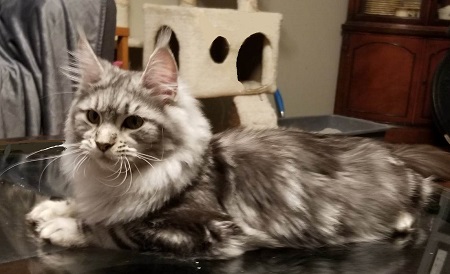 Past Litters: 
Evanstar is a Silver Black Classic Maine Coon  
She has the most beautiful kittens from silver classics, blacks, black smokes and Brown black and can also throw solid blues and blue classics.
She is a big girl and a total people "person" cat. We call her "Star". She is a voracious eater loves a snack and super energetic also. With her large build and gorgeous coat and mane we should get some amazing kittens from her.
She loves to jump on our shoulders or back whenever the opportunity arises. She rides around the house like a neck scarf. 
Star's kittens are gorgeous and will be a a wonderful addition to any family.

Evanstar's

Parents